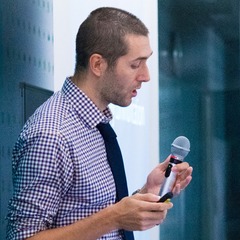 James Bowskill
Click less, think more
Creative Director / CCO

Tokyo, Japan

Joined on 2014/09/05
Sign up to view full profile
Self introduction
British-born and raised, I've been living in Tokyo since 2001 where I'm currently Creative Director at A.C.O. Inc.

I help my clients make brands that their customers love, balancing function and emotion. I work mainly with Japanese businesses, bringing a global perspective to the team.

In the office, I'm always testing new work styles to help us be more creative, smarter, faster, healthier — and leave work early to enjoy life.
Work experience
Creative Director / CCO

Step 3: Backed by a strong team now able to focus on big branding concepts, communication strategies and gaining a deeper understanding of client needs. 3 years remote working from London gave me a chance to get a new perspective on creativity and now I'm back in Tokyo I can put that to use here alongside our growing team.

2012-01 -

Art Director

Step 2: More direct work with clients pitching for big global sites, and designing award winning apps. Focus on UI design and strong visual concepts. Designing Toyota's global website in 2007 was a turning point. Learnt management skills and presenting to C-level audiences.

2007-01 - 2011-12

Designer

Step 1: Three years learning the ropes of the Tokyo design industry figuring out Japanese on the go. First designer to be employed. Lots of work through the big ad agencies, late nights, tight deadlines, confusion, cursing. Learnt a load.

2003-02 - 2006-12

English Teacher

My gateway to Japan — 18 months teaching English to Japanese students of all abilities from 5 – 85 yrs. Taught hundreds of people from all walks of life and learned a lot about communicating across languages and cultures.

2001-07 - 2003-01

Designer

First job after graduating. Interactive design for a startup e-learning company in York, U.K., founded by ex-IBMer Rob Arntsen. Mix of HTML and Flash-based design using Macromedia Dreamweaver/Fireworks/Flash (that was before Adobe monopolised design tools — ah, happy days).

2000-09 - 2001-06
Education
Art & Design

3 year multi-disciplinary course focussing on visual communication, product design, furniture design.

2000-06

Art, Design & Technology, English literature

Secondary education culminating in A-levels in Art, Design & Technology and English literature.

1997-06
Clubs/volunteering
I came across Crossfit in London and had two great years finding out what my body could and should do - and it's not sit at a desk 12hrs a day. Learnt a lot about mobility, and beating fear in the face of heavy things. Also found out I'm good at climbing ropes.

2014-4 - 2016-2
Languages
English

Native

Japanese

Professional
Awards
企業サイトランキング 第一位 (Toyota Corporate Website)

2011

Cannes Lions Festival, Promo & Activation Lions, Bronze Lion (Domino's Pizza App)

2010

Japan Web Grandprix, Design & Creative (Yamaha website)

2010
Connections on Wantedly View all 28
テクニカル・ディレクター / プロデューサー / Rhizomatiks

Graphic Designer / Piktochart

プロジェクトマネージャー / A.C.O. Inc.
Recommendations
No recommendations